Hundreds of children with Type 2 diabetes could be offered "life-changing" mobile phone technology to ease the "burdensome" task of finger-prick testing to monitor blood sugar levels.
The use of two programs to virtually automate the process has already been approved for children with Type 1 diabetes by the National Institute for Clinical Excellence (NICE).
Now for the first time, the technology has been recommended for children living with Type 2 diabetes.
A panel of experts at NICE recommended the use of real-time continuous glucose monitoring or intermittently-scanned glucose monitoring to automate the "tiring" and "stressful" process of finger-prick tests several times a day.
How does it work?
A discrete sensor is attached to a patient's body to monitor both current and previous glucose levels.
It also displays a prediction of the direction of glucose levels – meaning the patient can inject themselves with insulin to stabilize their blood sugar if needed.
Both continuous and intermittently scanned glucose monitoring – also known as flash monitoring – helps a person to maintain optimal blood sugar control, NICE says.
The technologies provide a continuous stream of real-time information on a smartphone, allowing conditions to be more efficiently managed.
Who is eligible?
A committee has recommended the technology is offered to children and young people with diabetes who:
• Have a need, condition or disability that means they cannot monitor their blood glucose by finger prick testing – such as mental health, learning disability or cognitive impairment
• Would need to test at least eight times a day
• Have recurrent or severe low blood sugar levels
• Have impaired blood sugar awareness
Anyone who meets the criteria is advised to speak to their diabetes team to access the technology on prescription.
Man is diabetes free after new diet

The recommendations were made following changes to NICE guidelines on the diagnosis and management of Type 1 and 2 diabetes in children and young people, published on Thursday.
Dr Judith Richardson, program director in the Clinical Directorate at NICE, said: "This technology can take away the burdensome task of several finger prick tests a day, which can be tiring, stressful and have a negative psychological impact on the child.
"Improvements made in managing a child's diabetes at an early stage can reduce the health impact of the condition later in their lives, and the potential impact on the health service."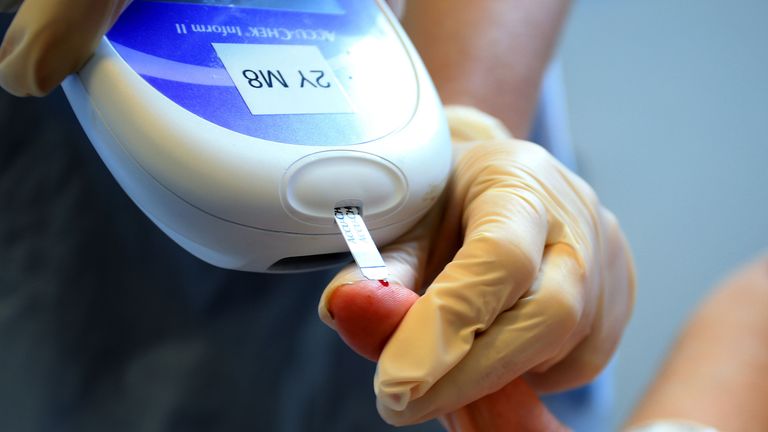 Read more:
Diabetes in the UK at the 'highest level ever'
'Artificial pancreas' which automatically pumps insulin to be given to diabetics
Policy manager for the charity Diabetes UK, Nikki Joule, called on healthcare systems to swiftly make plans to roll out the devices to all eligible children.
"Diabetes is a persistent condition, requiring constant, careful management, which can be really challenging for children and young people," she warned.
"It's important that these devices are now rapidly offered to affected families to help them manage their child's condition well."
Health minister Helen Whately added: "Offering children glucose monitoring devices will relieve some of this burden on hundreds of children and empower them to manage their condition more easily."