The European Commission (EC), on February 19 2020, released a document titled A European Strategy for Data. This document is a roadmap for member countries of the European Union (EU) in the data economy for the next five years.
More importantly, the document clearly spells out the ambition of the EU:
"(to) become a leading role model for a society empowered by data to make better decisions – in business and the public sector".
This objective is significant principally for two reasons.
One, data is the raw material for what could be the technology of the future, namely artificial intelligence (AI). Many people believe the EU has already lost the war to dominate AI. The winner would either be the USA or China.
Of course, there is a section of experts who believe Europe will win the AI ​​war. Crafting a long-term strategy for data including its storage, processing and usage, could turn out to be a major step in the direction.
The second reasonn is relatively obvious. Europe's General Data Protection Regulation (GDPR), the EU law on data protection, which came into effect in May 2018, today serves as a strong reference for all nations that are framing such laws.
In the light of the GDPR, the document in question is only a natural successor. Once you have the regulations in place, now you can "address systemic issues related to platforms and data."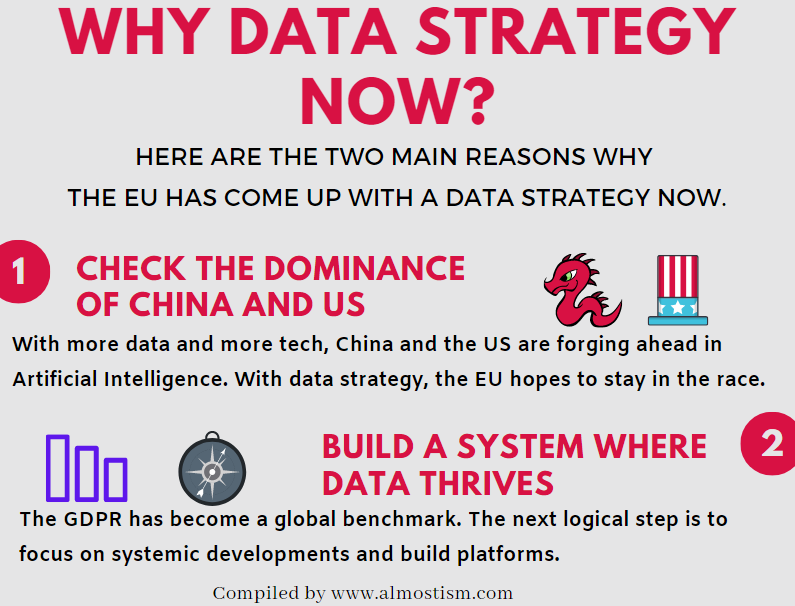 In this post, we give a brief overview of the document A European Strategy for Data. We cover what exactly is the document, what it aims to cover, what the EC is trying to do, what are the possible opportunities ahead and so on.
And of course, the most important question: what exactly does the EU plan to do down the line.
What the document is about
One of the key objectives behind this is to "create a European analytical framework for measuring data flows".
More specifically, "The European strategy for data aims at creating a single market for data that will ensure Europe's global competitiveness and data sovereignty"(Source).
In other words, the European Commission's data strategy lays down the early 'pillars' to make sure that data is available for the improvement of the economy and the society, without sacrificing the individual's ability to control their personal data.
What all areas can benefit from the correct use of data
All.
Every single field that humans can conceive of can benefit from the right usage of data. Here is a glimpse of what data can do in fields as diverse as you can imagine:
Improving healthcare
The correct application of data storage and usage can lead to optimal resource allocation. This, in turn, results in huge cost savings. For example, better use of data could result in a saving of an estimated US$ 5.5 BN for malaria treatment and prevention alone.
Saving on labor costs
None of us are strangers to having spent long time waiting for flights or trains. Had we been warned in advance, it would have collectively saved countless human-hours. It could prevent clogging at airports and railroad stations because passengers wouldn't have to wait. Real-time notification of delays can change a lot of things. for example, notification of delayed trains alone can save an estimated 27 million working hours, equivalent to over US $ 816 MN in labor costs.
Making farming more productive
A large proportion of the world's farming depends on monsoons. And monsoon, in turn, is but one of the many vagaries nature. Microsoft, for example, has used data of over 30 years to build the MAI (Moisture Adequacy Index) to build an AI-based app that lets farmers know the best time to sow seeds. Such use of AI in agriculture can drastically change the way the world carries out farming.
Building organized societies
China has been spearheading the usage of data and building AI systems. The Social Credit System of China has leveraged data not only to track traffic offenders but also reward those who follow regulations. Appropriate deployment of such systems can make the common human's life easier and lead to a safer, more organized society.
Clearly, the data strategy of the European Commission is geared towards remaining an organized society, simply by better leveraging data.
What is the data available on data
Naturally, the entire exercise to build a data ecosystem is based on solid numbers. The EC has a very small but beautiful compilation of numbers related to data (You can find it here). Following is an overview of the world of data, as mentioned in the study:
in 2018the world produced 33 zetabytes of data. By 2025this number will grow to 175 zetabytes.
The value of data economy in 2018 is pegged at almost US$332BN. in 2025the figure would be almost three times as big, reaching US$ 914BN.
The data economy of in EU today contributes to 2.4% of the total GDP. By 2025the same will contribute 5.8% of the GDP, representing a growth of over 140%.
The percentage of EU population with basic digital skills will be 65% of the total in 2025. That will be a 20% rise from 2018.
The number of data professionals too is expected to double by 2025 from what it was in 2018.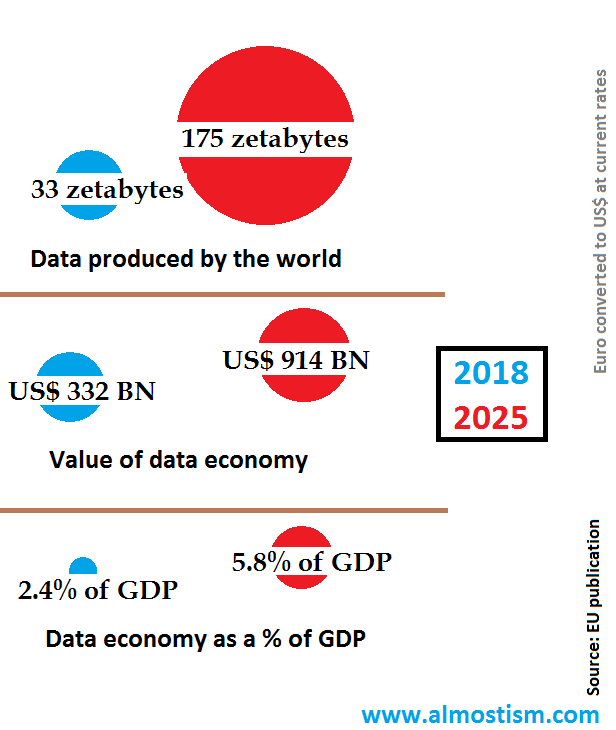 What are the objectives of Europe's data strategy
The six objectives of A European Strategy for Data are clearly laid down in the early part of the document.
Here's each of the six objectives behind the European Commission's data strategy:
1. Empowering users
In line with the GDPR, this document ensures data subjects retain control over their data. This will be complemented by nurturing SMBs to build digital skills.
2. Fostering investment
A specific European High Impact Project to process data, develop relevant tools and architecture, and shape governance is envisaged with an investment of over US$2.2BN.
3. Forming legislation
The document paved the way towards forming and adopting relevant legislation.
4. Promoting cloud
this is one of the most significant objectives in the context of countering US and Chinese dominance in cloud technology. The document aims to promote the setting up of data processing facilities and design regulatory framework for cloud.
5. Systematizing usage
The policy document intends to build a framework for opening up data that's publicly held and let it be reused in a more meaningful, structured manner. it aims to foster development in governance, business and entrepreneurship, and counter environmental and social challenges. The underlying idea is that data should be freely available to everyone, irrespective of whether it is a multinational or one-person startup.
6. Targeting sectors
This objective looks at creating data spaces that are common to all member nations of the EU. The idea is to serve critical sectors like healthcare and manufacturing.
Why the data strategy matters to Europe so much
The answer is simple, but the solution to the problem is not easy.
Europe is struggling to fight the dominance of the USA and China in AI. Without a strong strategy, a robust infrastructure and aggressive funding, Europe might lose the war forever, probably irrecoverably.
As mentioned above, one of the six objectives behind this document is to promote cloud. Look at the chart below, prepared from the numbers reported by Statista: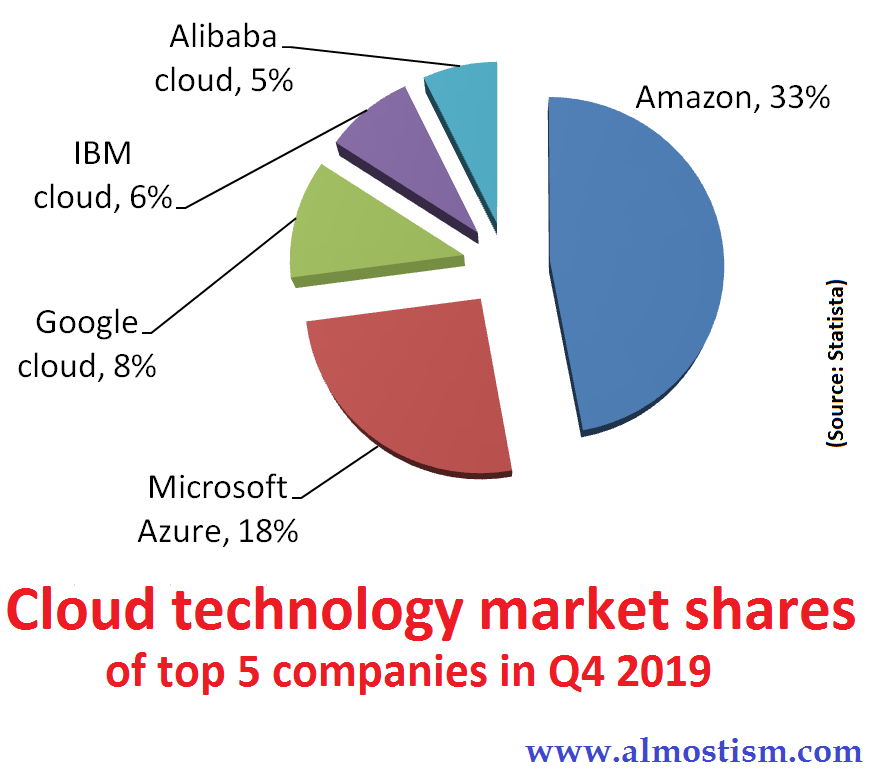 You noticed that Europe is nowhere in the top, right?
That is why Europe is in a sort of now-or-never situation when it comes to the cloud. If the EU doesn't really have a plan and executes it well, it will sink into technological oblivion, probably never to recover the loss.
Featured image source: Photo by Markus Spiske on Unsplash